Changes to REPs – From 1 April 2018
Positive changes that will enable ExerciseNZ and REPs to better serve our industry.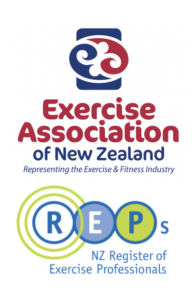 In 2018, the Exercise Association of New Zealand Incorporated (ExerciseNZ) board made the decision to streamline the structure of The New Zealand Register of Exercise Professionals (REPs) and ExerciseNZ.
Until then, REPs was a separate company, owned 100% by ExerciseNZ. The new structure will see REPs as a division within ExerciseNZ, which we believe is the natural place for the industry register to sit. The REPs name, brand, and day to day operations will continue as normal with no changes for any person or organisation registered with REPs.
What changed?
REPs and ExerciseNZ each had their own board guiding their own strategic direction. It was generally felt that the reasons this separation previously existed were no longer valid, and the needs of REPs from a strategic perspective could be better met. In the future, there will be a single Board guiding the direction of both ExerciseNZ and REPs.
As part of the new structure, a new REPs advisory group was established. All current REPs Board members were invited to be in this group. Additional representatives came from a broad range of sectors and organisations within our industry including: The PT Council, Yoga, Education Providers and Exercise Providers of different scale and types.
The new REPs advisory group will directly advise the REPs Registrar on key matters relating to registration, standards and operations of REPs. Any person interested in being involved with this group can directly contact the Registrar (stephen@reps.org.nz).
All registered exercise professionals will also receive FREE associate membership to ExerciseNZ. This will enable ExerciseNZ to continue to provide benefits to those registered (such as discounted rates to FitEx Conference) and also explore providing further benefits and support options later in 2018.
What doesn't change?
What doesn't change is a far longer list!
Ownership remains the same – REPs remains 100% owned by the industry, through ExerciseNZ
Staff – all the current REPs and ExerciseNZ staff will continue as normal in their current roles.
REPs funds – these will continue to be ring-fenced and only used on activities relating to operating and promoting the register. REPs will also continue to report each year on how it spends money (as it has done in the past).
Registration standards – no changes.
Registration status for individuals, facilities and education providers – no changes.
REPs services and benefits –We plan to review how ExerciseNZ can provide more support to those Registered with REPs, as well as what current services are most used and valued, and focus on those. The idea is focus on what you find most valuable!
REPs fees – no changes.
Insurance cover – no changes.
REPs contact details (website, email, postal address, phone number) – no changes.
Why do it?
There are two main drivers –
Planned changes to the Incorporated Societies Act. Advice from our auditors (BDO New Zealand) suggested that having one combined entity was the best way to meet our obligations proposed in the impending changes.
It enables both ExerciseNZ and REPs to increase efficiency in the way that we deliver services and support to the exercise industry, especially for those who are members of ExerciseNZ and/or registered with REPs
Ultimately it will enable both REPs and ExerciseNZ to work more closely and efficiently, especially as it relates to promoting the benefits of exercise to the public, and engaging with Government on matters related to our industry, including the importance of professional standards.
From the REPs Board
Having been Chair of the REPs Board for a number of years, I have seen significant development and growth of the organisation – registrations have grown to a point where now more than 70% of the workforce are registered, there are also numerous tools and resources supporting trainers, and perhaps most excitingly – there is a significant rise in the public profile and positive media coverage of REPs.
That said, it is now timely to review the organisational structure of REPs, and I fully support this change to bring REPs and ExerciseNZ together more closely. This will enable better efficiencies and service delivery, an improved membership and registration system, as well as engaging with a wider group from within our industry as part of the REPs Advisory Group. To me it makes perfect sense to become part of one entity, underneath a single board.
I have thoroughly enjoyed my time as REPs Chair, been very proud of the REPs team and our collective achievements. I would like to acknowledge and thank the REPs board as well as the REPs staff, especially Stephen Gacsal, REPs Registrar. Collectively the board and staff have worked to support and grow REPs, and I'm looking forward to seeing REPs continue to develop and grow to support the exercise industry in New Zealand.
Jo Clark, Chair
On behalf of the board of the NZ Register of Exercise Professionals Ltd
FAQs
Q: When did this change happen?
A: The change took place on 1 April 2018.
Q: I'm registered with REPs – what changes does this mean for me?
A: Nothing changes. In the long term you may see more benefits as ExerciseNZ and REPs work together on things that benefit the industry.
Q: How will REPs and ExerciseNZ work together now?
A: ExerciseNZ and REPs have always shared offices, so we already work closely.  With the same board setting the strategic direction for both ExerciseNZ and REPs this will ensure our objectives continue to be closely aligned, and we work together for the benefit of the collective industry and our members/registered individuals & facilities.
Q: Will this affect my registration fees?
A: No. There are no changes to any fees or costs associated with anything REPs does.
Q: What happens to the money paid to REPs?
A: No changes to this. In the past all monies paid to REPs were used to operate and promote the register. This will continue under the new structure, and REPs will continue to report on how it spends the funds it receives.
Q: Who/what is ExerciseNZ?
A: ExerciseNZ is a non profit body that operates under an incorporated society structure.   That means that ExerciseNZ members directly own ExerciseNZ (we are industry owned), and the members also directly elect the ExerciseNZ Board. ExerciseNZ set up REPs in 2001, and has owned REPs since that time.
Q: Will the REPs brand or name be changed?
A: No changes. REPs will continue to operate as its own brand and name.
Q: How will REPs continue to develop its standards and registration levels?
A: No changes here. REPs will continue to consult with industry on matters related to standards and ensure the registration levels reflect the common roles in our industry.
Q: What happens to the REPs board?
A: The strategic direction that was set by the REPs board will continue, with future decisions on this being made by the ExerciseNZ board (which is elected by its members). In addition an advisory group will be set up which will directly advise the REPs Registrar on operational matters.
Q: How will members of the new advisory group be chosen?
A: In addition to the existing REPs board members, individuals representing various groups and sectors within our industry will be invited to take part. This will include the PT Council, large and small employers, yoga, and education providers. The REPs registrar will oversee this process (any interested person can contact the Registrar directly).  REPs will continue with the practice of having one person directly elected by individuals registered with REPs.
Q: Will this affect the promotion of REPs?
A: In the short term, no changes. In the medium term ExerciseNZ intends to increase the promotion of REPs to both the public, as well as allied health professionals.
Q: Will international portability continue if I am registered with REPs?
A: Yes, international portability with our partner members of ICREPs (the International Confederation of the Registers for Exercise Professionals) remains unchanged.
Q: So why did your auditors suggest the change?
A: In brief, the laws around Incorporated Societies are changing, and ExerciseNZ is an incorporated society.  As a result of the changes there are a number of additional reporting requirements, and specifically require any companies (such as REPs) that are 100% owned by an Incorporated Society (such as ExerciseNZ) to report their finances in a consolidated form (i.e. together).  Based on this our auditors recommended having one entity for both REPs and ExerciseNZ.
There is an additional benefit that by being under one entity, ExerciseNZ and REPs will be able to introduce efficiencies to how it operates and how it provides support to those in the exercise industry.
Q: Has the ownership of REPs changed?
A: No, it was owned by ExerciseNZ, and will now be a division of ExerciseNZ (and still owned by ExerciseNZ).  ExerciseNZ is owned by its members, which are all from the industry, so both ExerciseNZ and REPs are (and will continue to be) industry owned.
Q: Will there be any changes to the REPs registration year (1 October – 30 Sept)?
A: No, this will remain unchanged.
Q: Are there any changes to my insurance cover through REPs?
A: No, this will remain unchanged.