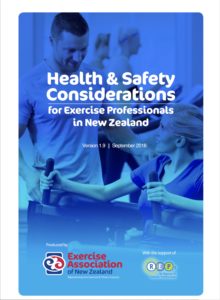 Below is a link to a document is designed to give an overview of health & safety considerations for Exercise Professionals operating in New Zealand.
In particular, the responsibilities under the Health & Safety at Work Act 2015 (HSWA).
The intent is to keep this resource thorough, yet only focus on the elements that are required by a sole-trader/self-employed exercise professional to consider, and in particular highlight those that are unique or need special consideration by anyone working in the exercise industry.
Click here to download the Health and Safety Considerations – for exercise professionals 
Important Links:
WorksafeNZ have produced The Working together on health and safety presentation which provides you with the basic facts you need to know about the Health and Safety at Work Act (HSWA). The video below, presented by former WorkSafe Chief Executive Gordon MacDonald, is a great resource for getting the health & safety message.