Your Certificate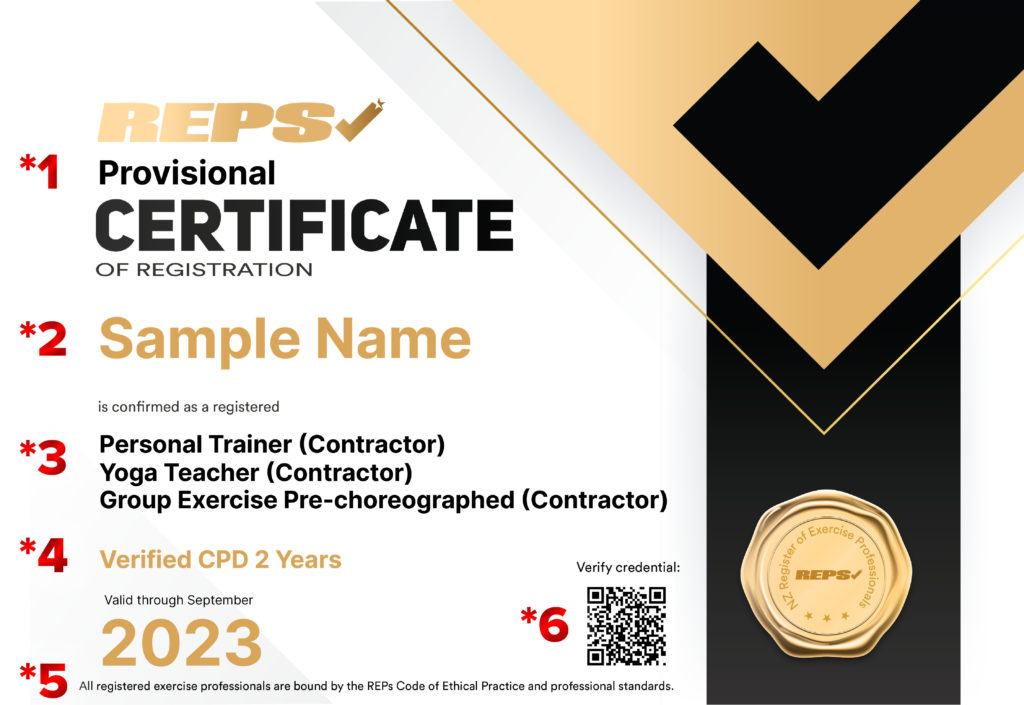 Provisional – Provisional registration is provided when we are awaiting the verification of documentation, or when an exercise professional is completing a qualification under an approved training and supervision plan.
Name – This is the named registration professional.
Registration Level/s – The exercise professional is qualified to operate at these roles.
Verified CPD and Years – If the words 'Verified CPD' is on the certificate, this means professional development has been completed which has been checked and verified by REPS. The years indicates the number of years the exercise professional has been continuously registered, AND has completed Verified CPD in all of those years.
Code of Ethical Practice – Sets out the terms of professional practice and care that you can expect from your REPS exercise professional. There is a complaints process on the REPs website (www.reps.org.nz) should you believe that the exercise professional hasn't met the agreed standard of the code.
QR Code – Scan this QR code to view full information on the exercise professionals registration. The data on this page is encrypted to a bank level of security, so can be relied on as accurate and valid.
Certificate & Badge FAQ's
Please note: The word 'Credential' refers to your REPS digital registration certificate and badge.
How can I download and print my REPS registration certificate?
https://help.accredible.com/how-can-i-download-or-print-my-certificate
Your certificate and badge comes with a unique URL which you can easily share.
How do I download my REPS digital badge?
You can download your digital badge to store it on your computer
https://help.accredible.com/how-do-i-download-a-digital-badge
How can I use my credentials unique URL?
You can place your credential's unique URL in a large variety of places, including:
Social Media Profiles
Websites and Blogs
Digital Resumes
Email Signatures
By doing this, you can direct current and potential new customers to your credential page. By directing people to the credential view, they can verify your certificates validity and see more information about what that achievement entails.
https://help.accredible.com/how-can-i-use-my-credentials-unique-url
How do I add my certificate or badge to LinkedIn?
Click on this link for the two ways of adding your credential
https://help.accredible.com/add-your-credential-to-linkedin
How do I embed my digital badge to my email signature?
https://help.accredible.com/embedding-your-credential-email-signature
How do I embed my REPS credential to a web page?
https://help.accredible.com/how-do-i-embed-my-credential-to-a-web-page