Employment/Training
Considering a career in the fitness industry? The following will help guide you in the right direction for a career in New Zealand's Fitness industry.
Are you about to study to become and Exercise professional? A message from ExerciseNZ

ExerciseNZ makes it very clear message, make sure the course is reviewed by REPs to ensure they meet the full requirements to work in the industry and thereby register with REPs. This means completing one of these courses will take a person from completely unqualified, to fully able to work in the industry.
The successful completion of a qualification from a REPs registered education provider will meet the qualification requirements to REPs register in New Zealand.
If you have completed a qualification which is not listed, you should contact REPs on 0800 55 44 99 or info@reps.org.nz for information on the options available to you.
Guide to starting out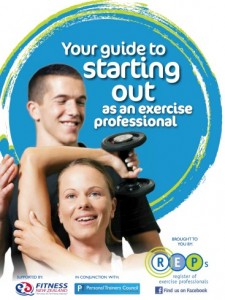 Designed for those thinking about a career in the exercise industry in New Zealand.
Developed by the NZ Register of Exercise Professionals, in conjunction with the PT Council, and supported by ExerciseNZ. This is a comprehensive guide that outlines many of the factors to think about when considering a career as an exercise professional.
Click on the image on the left to view the guide online, or download a pdf version here (note: 31 pages, large 9MB file)
Looking for a job in the fitness industry?
For those looking for a career in the industry the best place to look is the jobsite https://exercise.org.nz/jobs/. Full details can be found on the website.
Save
Save
Save
Save
Save
Save